If you would like to pre-order any of these forthcoming titles, please send us a message.
The Lonely Hearts Cinema Club by David M Barnett
Publication Date: 26 July
Price: £8.99
Nineteen-year-old Jennifer is regretting her hasty move into Sunset Promenade, an unusual retirement home taking in students to save money.
Despite their differences in age, Jennifer and the older residents thrive and embark on a series of new adventures.
But when Sunset Promenade is threatened with closure, cracks begin to show, and this quirky group of friends must work together to save their home.
A funny, warm and uplifting novel about the importance of friendship, the value of community, and how it's never too late to have the time of your life...
---
Lonely Courage by Rick Stroud
Publication Date: 26 July
Price: £8.99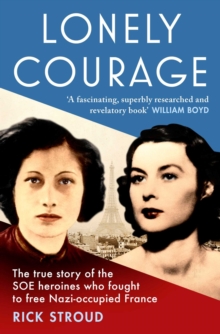 On 18 June 1940 General de Gaulle broadcast from London to his countrymen in France about the catastrophe that had overtaken their nation - the victory of the invading Germans. He declared `Is defeat final? No! . . . the flame of French Resistance must not and will not be extinguished'. The Resistance began almost immediately. At first it was made up of small, disorganised groups working in isolation. But by the time of the liberation in 1944 around 400,000 French citizens, nearly 2 per cent of the population, were involved. The Special Operations Executive (SOE) set up by Winston Churchill in 1941 saw its role in France as helping the Resistance by recruiting and organising guerrilla fighters; supplying and training them; and then disrupting the invaders by any means necessary. The basic SOE unit was a team of three: a leader, a wireless operator and a courier. These teams operated in Resistance circuits and the agents were given random codenames. The aim of this work was to prepare for the invasion of Europe by Allied forces and the eventual liberation of France. It was soon decided that women would play a vital role. There were 39 female agents recruited from all walks of life, ranging from a London shop assistant to a Polish aristocrat. What linked them was that they knew France well, were fluent in French and were prepared to sacrifice everything to help defeat the enemy. The women trained alongside the men, learning how to disappear into the background, how to operate a radio transmitter and how to kill a man with their bare hands. Once trained they were infiltrated behind the lines by parachute or tiny aircraft that could land in remote fields. Some of the women went on to lead thousands of Resistance fighters, while others were arrested, brutally interrogated and sent to concentration camps where they endured torment and death. Lonely Courage tells their story and sheds light on what life was really like for these brave women who tumbled from the sky.
---
Paper Ghosts by Julia Heaberlin
Publication Date: 6 September
Price: £8.99
Carl Louis Feldman is an old man who was once a celebrated photographer. That was before he was tried for the murder of a young woman and acquitted. Before his admission to a care home for dementia. Now his daughter has come to see him, to take him on a trip. Only she's not his daughter and, if she has her way, he's not coming back . . . Because Carl's past has finally caught up with him. The young woman driving the car is convinced her passenger is guilty, and that he's killed other young women. Including her sister Rachel. Now they're following the trail of his photographs, his clues, his alleged crimes. To see if he remembers any of it. Confesses to any of it. To discover what really happened to Rachel. Has Carl truly forgotten what he did or is he just pretending? Perhaps he's guilty of nothing and she's the liar. Either way in driving him into the Texan wilderness she's taking a terrible risk. For if Carl really is a serial killer, she's alone in the most dangerous place of all .
---
First Prize for the Worst Witch by Jill Murphy
Publication Date: 6 September
Price: £9.99
As seen on TV, accident-prone Mildred Hubble is the Worst Witch at Miss Cackle's Academy. She's always getting her spells wrong and landing herself in trouble. But Mildred is now in the last term of 4th Year and determined to prove that she's not as useless as everyone thinks - could it be First Prize for the worst witch after all?Mildred Hubble is the original Worst Witch. Her adventures began in 1974 and have been in print every since. Hugely successful, in 2016 Mildred's escapades with best friends Maud and Enid, were adapted for TV to much acclaim, with a second series to come in spring 2017. Jill Murphy started putting books together (literally with a stapler), when she was six. The Worst Witch was first published in 1974 and this much-loved classic has been enjoyed by readers for more than 40 years. Jill Murphy also written and illustrated several award-winning picture books for younger children. The Worst Witch series includes: The Worst Witch, A Bad Spell for the Worst Witch, The Worst Witch All at Sea, The Worst Witch Saves the Day and The Worst Witch to the Rescue and The Worst Witch and the Wishing Star.
---
Transcription by Kate Atkinson
Publication Date: 6 September
Price: £20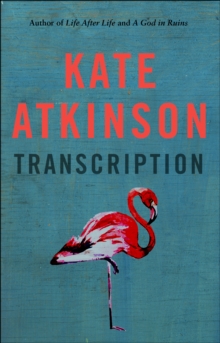 `Think of it as an adventure, Perry had said right at the beginning of all this.And it had seemed like one. A bit of a lark, she had thought. A Girls' Own adventure.' In 1940, eighteen-year old Juliet Armstrong is reluctantly recruited into the world of espionage. Sent to an obscure department of MI5 tasked with monitoring the comings and goings of British Fascist sympathizers, she discovers the work to be by turns both tedious and terrifying. But after the war has ended, she presumes the events of those years have been relegated to the past for ever. Ten years later, now a producer at the BBC, Juliet is unexpectedly confronted by figures from her past. A different war is being fought now, on a different battleground, but Juliet finds herself once more under threat. A bill of reckoning is due, and she finally begins to realize that there is no action without consequence. Transcription is a work of rare depth and texture, a bravura modern novel of extraordinary power, wit and empathy. It is a triumphant work of fiction from one of this country's most exceptional writers.
---
Paris Echo by Sebastian Faulks
Publication date: 6 September
Price: £20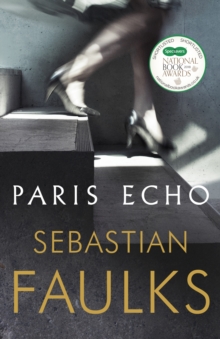 Here is Paris as you have never seen it before - a city in which every building seems to hold the echo of an unacknowledged past, the shadows of Vichy and Algeria. American postdoctoral researcher Hannah and runaway Moroccan teenager Tariq have little in common, yet both are susceptible to the daylight ghosts of Paris. Hannah listens to the extraordinary witness of women who were present under the German Occupation; in her desire to understand their lives, and through them her own, she finds a city bursting with clues and connections. Out in the migrant suburbs, Tariq is searching for a mother he barely knew. For him in his innocence, each boulevard, Metro station and street corner is a source of surprise. In this urgent and deeply moving novel, Faulks deals with questions of empire, grievance and identity. With great originality and a dark humour, Paris Echo asks how much we really need to know if we are to live a valuable life.
---
Ottolenghi SIMPLE
Publication Date: 6 September
Price: £25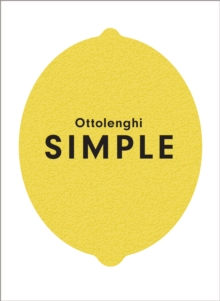 Everything you love about Ottolenghi, made simple. Yotam Ottolenghi's award-winning recipes are always a celebration: an unforgettable combination of abundance, taste and surprise. Ottolenghi SIMPLE is no different, with 130 brand-new dishes that contain all the inventive elements and flavour combinations that Ottolenghi is loved for, but with minimal hassle for maximum joy. Bursting with colourful photography, Ottolenghi SIMPLE showcases Yotam's standout dishes that will suit whatever type of cooking you find easy - whether that's getting wonderful food on the table in under 30 minutes, using just one pot to make a delicious meal, or a flavoursome dish that can be prepared ahead and then served when you're ready. These brilliant, flavour-forward dishes are all SIMPLE in at least one (but very often more than one) way: S - short on time: less than 30 minutes I - 10 ingredients or lessM - make aheadP - pantry L - lazyE - easier than you think Ottolenghi SIMPLE is the stunning new cookbook we have all been wishing for: Yotam Ottolenghi's vibrant food made easy.
---
Living with the Gods by Neil MacGregor
Publication Date: 17 September
Price: £30
A panoramic exploration of peoples, objects and beliefs over 40,000 years from the celebrated author of A History of the World in 100 Objects and Germany, following the new BBC Radio 4 documentary and British Museum exhibition. Available for pre-order now. No society on Earth lacks beliefs about where it has come from, its place in the world, and the connection of individuals to the eternal. Neil MacGregor's dazzling new book traces how different societies have understood and articulated their place in the cosmic scheme. He brilliantly turns his kaleidoscope of objects, monuments and ideas to examining mankind's beliefs - not from the perspective of institutional religions, but by focusing on the shared narratives that have shaped our societies, and our relationships with each other.
---
Lethal White by Robert Galbraith
Publication Date: 18 September
Price: £20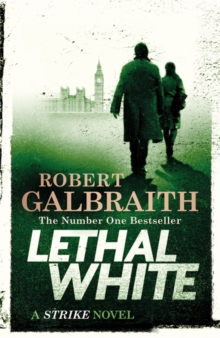 'I seen a kid killed . . . He strangled it, up by the horse.'
When Billy, a troubled young man, comes to private eye Cormoran Strike's office to ask for his help investigating a crime he thinks he witnessed as a child, Strike is left deeply unsettled. While Billy is obviously mentally distressed, and cannot remember many concrete details, there is something sincere about him and his story. But before Strike can question him further, Billy bolts from his office in a panic. Trying to get to the bottom of Billy's story, Strike and Robin Ellacott - once his assistant, now a partner in the agency - set off on a twisting trail that leads them through the backstreets of London, into a secretive inner sanctum within Parliament, and to a beautiful but sinister manor house deep in the countryside. And during this labyrinthine investigation, Strike's own life is far from straightforward: his newfound fame as a private eye means he can no longer operate behind the scenes as he once did. Plus, his relationship with his former assistant is more fraught than it ever has been - Robin is now invaluable to Strike in the business, but their personal relationship is much, much more tricky than that . . . The most epic Robert Galbraith novel yet, LETHAL WHITE is both a gripping mystery and a page-turning next instalment in the ongoing story of Cormoran Strike and Robin Ellacott.
---
In my Life by Alan Johnson
Publication date: 20 September
Price: £16.99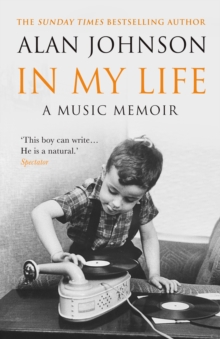 From being transported by the sound of 'True Love' by Bing Crosby and Grace Kelly on the radio, as a small child living in condemned housing in ungentrified West London in the late 1950s, to going out to work as a postman humming 'Watching the Detectives' by Elvis Costello in 1977, Alan Johnson's life has always had a musical soundtrack. In fact music hasn't just accompanied his life, it's been an integral part of it. In the bestselling and award-winning tradition of This Boy, In My Life vividly transports us to a world that is no longer with us - a world of Dansettes and jukeboxes, of heartfelt love songs and heart-broken ballads, of smoky coffee shops and dingy dance halls. From Bob Dylan to David Bowie, from Lonnie Donnegan to Bruce Springsteen, all of Alan's favourites are here. As are, of course, his beloved Beatles, whom he has worshipped with undying admiration since 1963. But this isn't just a book about music. In My Life adds a fourth dimension to the story of Alan Johnson the man.
---
Speeches of Note by Shaun Usher
Publication date: 20 September
Price: £25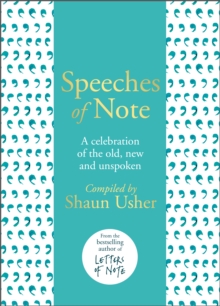 From Shaun Usher, the author of the international bestseller Letters of Note, comes an obsessively curated, richly illustratedand sumptuously produced collection of speeches from throughout the ages. Discover speeches that altered the course of history, like Nelson Mandela's on the day he became South Africa's first black President, and outpourings of much-needed change, such as the impassioned impromptu appeal for women's rights from Sojourner Truth, an African-American woman born into slavery. Expect the gloriously unexpected, as Kermit the Frog takes to the podium, and celebrate lives well-lived, including Tilda Swinton's tribute to `every alien's favourite cousin', David Bowie. While some speeches are heard by millions, some remain unspoken: the secret draft prepared for Queen Elizabeth II during a military exercise for World War III and President Nixon's chilling public announcement should Neil Armstrong and Buzz Aldrin become stranded on the Moon. Surprising, inspiring and shocking; moving, comforting and enlightening. Seventy-six extraordinary ways to step into someone else's shoes.
---
Love is Blind by William Boyd
Publication Date: 20 September
Price: £20
Love is Blind is William Boyd's sweeping, heart-stopping new novel. Set at the end of the 19th century, it follows the fortunes of Brodie Moncur, a young Scottish musician, about to embark on the story of his life. When Brodie is offered a job in Paris, he seizes the chance to flee Edinburgh and his tyrannical clergyman father, and begin a wildly different new chapter in his life. In Paris, a fateful encounter with a famous pianist irrevocably changes his future - and sparks an obsessive love affair with a beautiful Russian soprano, Lika Blum. Moving from Paris to St Petersburg to Edinburgh and back again, Brodie's love for Lika and its dangerous consequences pursue him around Europe and beyond, during an era of overwhelming change as the nineteenth century becomes the twentieth. Love is Blind is a tale of dizzying passion and brutal revenge; of artistic endeavour and the illusions it creates; of all the possibilities that life can offer, and how cruelly they can be snatched away. At once an intimate portrait of one man's life and an expansive exploration of the beginning of the twentieth century, Love is Blind is a masterly new novel from one of Britain's best loved storytellers.
---
The Spy and the Traitor by Ben Macintyre
Publication Date: 20 September
Price: £25
A thrilling Cold War story about a KGB double agent, by one of Britain's greatest historiansOn a warm July evening in 1985, a middle-aged man stood on the pavement of a busy avenue in the heart of Moscow, holding a plastic carrier bag. In his grey suit and tie, he looked like any other Soviet citizen. The bag alone was mildly conspicuous, printed with the red logo of Safeway, the British supermarket. The man was a spy. A senior KGB officer, for more than a decade he had supplied his British spymasters with a stream of priceless secrets from deep within the Soviet intelligence machine. No spy had done more to damage the KGB. The Safeway bag was a signal: to activate his escape plan to be smuggled out of Soviet Russia. So began one of the boldest and most extraordinary episodes in the history of spying. Ben Macintyre reveals a tale of espionage, betrayal and raw courage that changed the course of the Cold War forever...
---
Tombland by C J Sansom
Publication Date: 18 October
Price: £20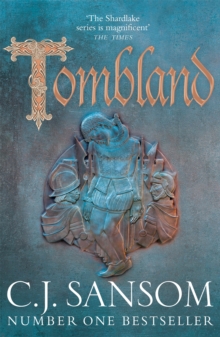 Spring, 1549. Two years after the death of Henry VIII, England is sliding into chaos . . . The nominal king, Edward VI, is eleven years old. His uncle Edward Seymour, Lord Hertford, rules as Protector. The extirpation of the old religion by radical Protestants is stirring discontent among the populace while the Protector's prolonged war with Scotland is proving a disastrous failure and threatens to involve France. Worst of all, the economy is in collapse, inflation rages and rebellion is stirring among the peasantry. Since the old King's death, Matthew Shardlake has been working as a lawyer in the service of Henry's younger daughter, the Lady Elizabeth. The gruesome murder of Edith Boleyn, the wife of John Boleyn - a distant Norfolk relation of Elizabeth's mother - which could have political implications for Elizabeth, brings Shardlake and his assistant Nicholas Overton to the summer assizes at Norwich. There they are reunited with Shardlake's former assistant Jack Barak. The three find layers of mystery and danger surrounding Edith's death, as a second murder is committed. And then East Anglia explodes, as peasant rebellion breaks out across the country. The yeoman Robert Kett leads a force of thousands in overthrowing the landlords and establishing a vast camp outside Norwich. Soon the rebels have taken over the city, England's second largest. Barak throws in his lot with the rebels; Nicholas, opposed to them, becomes a prisoner in Norwich Castle; while Shardlake has to decide where his ultimate loyalties lie, as government forces in London prepare to march north and destroy the rebels. Meanwhile he discovers that the murder of Edith Boleyn may have connections reaching into both the heart of the rebel camp and of the Norfolk gentry . .
---
Fire and Blood by George R R Martin
Publication Date: 20 November
Price: £25
Set 300 years before the events in A Song of Ice and Fire, FIRE AND BLOOD is the definitive history of the Targaryens in Westeros as told by Archmaester Gyldayn, and chronicles the conquest that united the Seven Kingdoms under Targaryen rule through to the Dance of the Dragons: the Targaryen civil war that nearly ended their dynasty forever. The thrilling history of the Targaryens comes to life in this masterly work by the author of A Song of Ice and Fire, the inspiration for HBO's Game of Thrones. With all the fire and fury fans have come to expect from internationally bestselling author George R.R. Martin, this is the first volume of the definitive two-part history of the Targaryens in Westeros. Centuries before the events of A Game of Thrones, House Targaryen - the only family of dragonlords to survive the Doom of Valyria - took up residence on Dragonstone. Fire and Blood begins their tale with the legendary Aegon the Conqueror, creator of the Iron Throne, and goes on to recount the generations of Targaryens who fought to hold that iconic seat, all the way up to the civil war that nearly tore their dynasty apart. What really happened during the Dance of the Dragons? Why was it so deadly to visit Valyria after the Doom? What were Maegor the Cruel's worst crimes? What was it like in Westeros when dragons ruled the skies? These are but a few of the questions answered in this essential chronicle, as related by a learned maester of the Citadel, and featuring more than eighty all-new black-and-white illustrations by artist Doug Wheatley. With all the scope and grandeur of Gibbon's The History of the Decline and Fall of the Roman Empire, Fire and Blood is the ultimate game of thrones, giving readers a whole new appreciation for the dynamic, often bloody, and always fascinating history of Westeros.