Little Fires Everywhere by Celeste Ng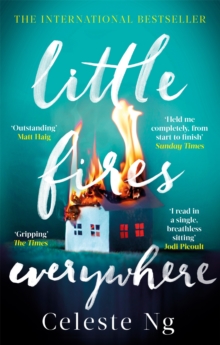 Everyone in Shaker Heights was talking about it that summer: how Isabelle, the last of the Richardson children, had finally gone around the bend and burned the house down. In Shaker Heights, a placid, progressive suburb of Cleveland, everything is meticulously planned - from the layout of the winding roads, to the colours of the houses, to the successful lives its residents will go on to lead. And no one embodies this spirit more than Elena Richardson, whose guiding principle is playing by the rules. Enter Mia Warren - an enigmatic artist and single mother- who arrives in this idyllic bubble with her teenage daughter Pearl, and rents a house from the Richardsons. Soon Mia and Pearl become more than just tenants: all four Richardson children are drawn to the mother-daughter pair. But Mia carries with her a mysterious past, and a disregard for the rules that threatens to upend this carefully ordered community. When old family friends attempt to adopt a Chinese-American baby, a custody battle erupts that dramatically divides the town - and puts Mia and Elena on opposing sides. Suspicious of Mia and her motives, Elena is determined to uncover the secrets in Mia's past. But her obsession will come at an unexpected and devastating cost...
---
Wake by Gillian Allnut
When Gillian Allnutt was awarded the Queen's Gold Medal for Poetry, Carol Ann Duffy wrote that her work `has always been in conversation with the natural world and the spiritual life'.
Her latest collection, wake, shows the two beginning to meld into one: to speak for, even as, one another. As her title signals, these are poems about looking back, keeping watch over the dying and death of an old world and the ways of being human in that world; but also forward, waiting for the new world and being ready to awaken to it when it comes.
There are, as always in her work, many displaced people.
No one here is fully at home in the world.
These are turbulent times - individually and collectively - and the poems here reflect that. And yet the poems are more `among' than `about' people: speaking out of the horde, and the hoard, of humanity as a whole.
---
The Awkward Age by Francesca Segal
What does it take to be a family?
Julia has fallen deeply, unexpectedly in love.
James is her second chance, and everything she never knew she wanted.
It's perfect but for two things: their children.
Julia's beloved daughter Gwen loathes James and James's son Nathan takes pleasure in antagonising his new stepsister.
Uniting two households is never easy, but the teenagers' unexpected actions will eventually threaten everyone's hard-won happiness.
---
The Burning Chamber by Kate Mosse
Bringing sixteenth-century Languedoc vividly to life, Kate Mosse's The Burning Chambers is a gripping story of love and betrayal, mysteries and secrets; of war and adventure, conspiracies and divided loyalties . . . Carcassonne 1562: Nineteen-year-old Minou Joubert receives an anonymous letter at her father's bookshop. Sealed with a distinctive family crest, it contains just five words: SHE KNOWS THAT YOU LIVE. But before Minou can decipher the mysterious message, a chance encounter with a young Huguenot convert, Piet Reydon, changes her destiny forever. For Piet has a dangerous mission of his own, and he will need Minou's help if he is to get out of La Cite alive. Toulouse: As the religious divide deepens in the Midi, and old friends become enemies, Minou and Piet both find themselves trapped in Toulouse, facing new dangers as sectarian tensions ignite across the city, the battle-lines are drawn in blood and the conspiracy darkens further. Meanwhile, as a long-hidden document threatens to resurface, the mistress of Puivert is obsessed with uncovering its secret and strengthening her power .
---
Evening Descends Upon the Hills by Anna Maria Ortese
A stunning classic set in Italy's most vibrant and turbulent metropolis - Naples - in the immediate aftermath of World War Two. These lively and superbly written stories helped inspire Elena Ferrante's Neapolitan novels. Ortese's work was also championed by Italo Calvino, who was her Italian editor.The stories and reportage collected in this volume form a powerful portrait of ordinary lives, both high and low, family dramas, love affairs, and struggles to pay the rent, set against the crumbling courtyards of the city itself, and the dramatic landscape of Naples Bay.This classic is exquisitely rendered in English by Ann Goldstein and Jenny McPhee, two of the leading translators working from Italian today. Included in the collection is 'A Pair of Eyeglasses', one of the most widely praised Italian short stories of the last century.
---
The Librarian by Salley Vickers
A charmingly subversive novel about a library in 1950s England, by the acclaimed author of The Cleaner of ChartresSylvia Blackwell, a young woman in her twenties, moves to East Mole, a quaint market town in middle England, to start a new job as a children's librarian.
But the apparently pleasant town is not all it seems.
Sylvia falls in love with an older man - but it's her connection to his precocious young daughter and her neighbours' son which will change her life and put them, the library and her job under threat.
How does the library alter the young children's lives and how do the children fare as a result of the books Sylvia introduces them to?
---
Property: A Collection by Lionel Shriver
First ever story collection from the inimitable Lionel Shriver.
This landmark publication, the first collection of stories from a master of the form, explores the idea of "property" in both senses of the word: real estate, and stuff.
These sharp, brilliantly imaginative pieces illustrate how our possessions act as proxies for ourselves, and how tussles over ownership articulate the power dynamics of our relationships.
In Shriver's world, we may possess people and objects and places, but in turn they possess us.
---
Persons Unknown by Susie Steiner
Second literary thriller from bestselling author of Missing, Presumed.
A brutal murder.
A detective with no one left to trust.
A young man murdered. A city banker bleeds to death yards from a Cambridgeshire police headquarters. A detective out of her depth.
DI Manon Bradshaw's world is turned upside down when the victim turns out to be closer to her than she could have guessed.
Who Should she believe?
When even her trusted colleagues turn their backs on her, it's time to contemplate the unthinkable: are those she holds dear capable of murder?
---
The Party by Elzabeth Day
Martin Gilmour and Ben Fitzmaurice have been best friends for 25 years, since their days together at Burtonbury School. They are an unlikely pair: the scholarship boy with the wrong accent and clothes, and the dazzlingly popular, wealthy young aristocrat. But Martin knows no one else can understand the bond they share - and no one else could have kept Ben's secret for over two decades. At Ben's 40th birthday party, the cream of the British establishment gathers in a haze of champagne, drugs and glamour. Amid the politicians, the celebrities, the old money and the newly rich, Martin once again feels that pang of not quite belonging. His wife Lucy has her reservations, too. There is something unnerving in the air. But Ben wouldn't do anything to damage their friendship. Would he?
---
The Murder of my Aunt by Richard Hull
'I should be very much happier if she were dead.'
Edward Powell lives with his Aunt Mildred in the Welsh town of Lywll.
His aunt thinks Lywll an idyllic place to live, but Edward loathes the countryside - and thinks the company even worse.
In fact, Edward has decided to murder his aunt.
A darkly humorous depiction of fraught family ties, The Murder of My Aunt was first published in 1934.
---
Stay with Me by Ayobami Adebayo
Yejide is hoping for a miracle, for a child.
It is all her husband wants, all her mother-in-law wants, and she has tried everything.
But when her relatives insist upon a new wife, it is too much for Yejide to bear.
Unravelling against the social and political turbulence of 1980s Nigeria, Stay With Me is a story of the fragility of married love, the undoing of family, the power of grief, and the all-consuming bonds of motherhood.
It is a tale about the desperate attempts we make to save ourselves, and those we love, from heartbreak.
---
House of Names by Colm Toibin
They cut her hair before they dragged her to the place of sacrifice. Her mouth was gagged to stop her cursing her father, her cowardly, two-tongued father. Nonetheless, they heard her muffled screams.'On the day of his daughter's wedding, Agamemnon orders her sacrifice. His daughter is led to her death, and Agamemnon leads his army into battle, where he is rewarded with glorious victory. Three years later, he returns home and his murderous action has set the entire family - mother, brother, sister - on a path of intimate violence, as they enter a world of hushed commands and soundless journeys through the palace's dungeons and bedchambers. As his wife seeks his death, his daughter, Electra, is the silent observer to the family's game of innocence while his son, Orestes, is sent into bewildering, frightening exile where survival is far from certain. Out of their desolating loss, Electra and Orestes must find a way to right these wrongs of the past even if it means committing themselves to a terrible, barbarous act.House of Names is a story of intense longing and shocking betrayal. It is a work of great beauty, and daring, from one of our finest living writers.
---
Happiness by Aminatta Forna
Waterloo Bridge, London. Two strangers collide. Attila, a Ghanaian psychiatrist, and Jean, an American studying the habits of urban foxes. From this chance encounter in the midst of the rush of a great city, numerous moments of connections span out and interweave, bringing disparate lives together. Attila has arrived in London with two tasks: to deliver a keynote speech on trauma and to check up on the daughter of friends, his `niece', Ama, who hasn't called home in a while. It soon emerges that she has been swept up in an immigration crackdown - and now her young son Tano is missing. When, by chance, Attila bumps into Jean again, she joins him in his search for Tano, mobilizing into action the network she has built up, mainly from the many West African immigrants working London's myriad streets, of volunteer fox-spotters: security guards, hotel doormen, traffic wardens. All unite to help and as the search continues, a deepening friendship between Attila and Jean unfolds. In this delicate yet powerful novel of loves lost and new, of past griefs and of the hidden side of a multicultural metropolis, Aminatta Forna asks us to consider the values of the society we live in, our co-existence with one another and all living creatures - and the true nature of happiness.
---
Springtime in a Broken Mirror by Mario Benedetti
An extraordinary story of love and exile, from one of the great masters of the Latin American novel, translated into English for the first timeSantiago is trapped. Taken political prisoner in Montevideo after a brutal military coup, he can do nothing but write letters to his family, and try to stay sane. Far away, his nine-year-old daughter Beatrice wonders at the marvels of 1970s Buenos Aires, but her grandpa and mother - Santiago's beautiful, careworn wife, Graciela - struggle to adjust to a life in exile. Graciela fights to retain the fiery passion that suffused her marriage, her politics, her whole life, as day by day Santiago edges closer to freedom. But Santiago's rakish, reckless best friend is a constant, brooding presence in the exiles' lives, and Graciela finds herself drawn irresistibly towards him. A lucid, heart-wrenching saga of a family torn apart by the forces of history, Springtime in a Broken Mirror tells with tenderness and fury of the indelible imprint politics leaves on individual lives. Generous and unflinching, it asks whether the broken bonds of family and history can ever truly be mended.
---
Zoo of the New edited by Don Paterson and Nick Laird
In The Zoo of the New, poets Don Paterson and Nick Laird have cast a fresh eye over more than five centuries of verse, from the English language and beyond. Above all, they have sought poetry that retains, in one way or another, a powerful timelessness: words with the thrilling capacity to make the time and place in which they were written, however distant and however foreign they may be, feel utterly here and now in the 21st Century.This book is the condensed result of that search. It stretches as far back as Sappho and as far forward as the recent award-winning work of Denise Riley, taking in poets as varied as Thomas Wyatt, William Shakespeare, T. S. Eliot, Frank O'Hara, Sylvia Plath and Gwendolyn Brooks along the way. Here, the mournful rubs shoulders with the celebratory; the skulduggerous and the foolish with the highfalutin; and tales of love, loss and war with a menagerie of animals and objects, from bee boxes to rubber boots, a suit of armour and a microscope.Teeming with old favourites and surprising discoveries, this lovingly selected compendium is sure to win lifelong readers.
---
The Music Shop by Rachel Joyce
From the author of the world-wide bestseller, The Unlikely Pilgrimage of Harold Fry: ' A beautiful novel, a tonic for the soul and a complete joy to read.' - Joanna Cannon, author of The Trouble with Goats and Sheep.
1988. Frank owns a music shop. It is jam-packed with records of every speed, size and genre. Classical, jazz, punk - as long as it's vinyl he sells it. Day after day Frank finds his customers the music they need. Then into his life walks Ilse Brauchmann. Ilse asks Frank to teach her about music. His instinct is to turn and run. And yet he is drawn to this strangely still, mysterious woman with her pea-green coat and her eyes as black as vinyl.
But Ilse is not what she seems.
And Frank has old wounds that threaten to re-open and a past he will never leave behind .
---
Conversations with Friends by Sally Rooney
Frances is twenty-one years old, cool-headed and observant.
A student in Dublin and an aspiring writer, at night she performs spoken word with her best friend Bobbi, who used to be her girlfriend.
When they are interviewed and then befriended by Melissa, a well-known journalist who is married to Nick, an actor, they enter a world of beautiful houses, raucous dinner parties and holidays in Provence, beginning a complex menage-a-quatre.
But when Frances and Nick get unexpectedly closer, the sharply witty and emotion-averse Frances is forced to honestly confront her own vulnerabilities for the first time.
---
The Incendium Plot by A D Swanston
England, 1572. A powder keg of rumour, fanaticism, treachery and dissent. All it would take is a single spark . . . In the England of Elizabeth I, the fear of plague, invasion and the threat of insurrection are constant. As the Earl of Leicester's chief intelligencer, lawyer Dr Christopher Radcliff is tasked with investigating rumours of treachery at home and the ever-present papist threat from abroad. And with heresy and religious unrest simmering beneath the surface of a country on the brink, Radcliff is under pressure to get results. Then two brutal and seemingly motiveless killings point alert Radcliff to the whisper of a new plot against the queen. There are precious few clues and it seems that all he and his network of agents have to go on is a single word: incendium. But what does it mean - and who lies behind it? Christopher Radcliff must find out before it's too late . .
---
The Dinner Guest by Gabriela Ybarra
The story goes that in my family there's an extra dinner guest at every meal. He's invisible, but always there. He has a plate, glass, knife and fork. Every so often he appears, casts his shadow over the table, and erases one of those present. The first to vanish was my grandfather. In 1977, three terrorists broke into Gabriela Ybarra's grandfather's home, and pointed a gun at him in the shower. This was the last time his family saw him alive, and his kidnapping played out in the press, culminating in his murder. Ybarra first heard the story when she was eight, but it was only after her mother's death, years later, that she felt the need to go deeper and discover more about her family's past. The Dinner Guest is a novel, with the feel of documentary non-fiction.
It connects two life-changing events - the very public death of Ybarra's grandfather, and the more private pain as her mother dies from cancer and Gabriela cares for her. Devastating yet luminous, the book is an investigation, marking the arrival of a talented new voice in international fiction.
---
Defectors by Joseph Kanon
Some secrets should never be told. Moscow, 1961: With the launch of Sputnik, the Soviet Union's international prestige is at an all-time high.
And the most notorious of the defectors to the Soviet Union, former CIA agent Frank Weeks, is about to publish his memoirs. What he reveals will send shock waves through the West. Weeks' defection in the early 1950s shook Washington to its core - and forced the resignation of his brother, Simon, from the State Department. Simon, now a publisher in New York, is given the opportunity to read and publish his brother's memoir.
He knows the US government will never approve the publication of what is clearly intended as KGB propaganda. Yet the offer is irresistible: it will finally give him the chance to learn why his brother chose to betray his country.But what he discovers in Moscow is far more shocking than he ever imagined ...
---
Exit West by Mohsin Hamid
An extraordinary story of love and hope from the bestselling, Man Booker-shortlisted author of The Reluctant Fundamentalist.
This is Nadia. She is fiercely independent with an excellent sense of humour and a love of smoking alone on her balcony late at night.
This is Saeed. He is sweet and shy and kind to strangers. He also has a balcony but he uses his for star-gazing.
This is their story: a love story, but also a story about how we live now and how we might live tomorrow. Saeed and Nadia are falling in love, and their city is falling apart. Here is a world in crisis and two human beings travelling through it.
Exit West is a heartfelt and radical act of hope - a novel to restore your faith in humanity and in the power of imagination.
---
The History of Wolves by Emily Fridlund
How far would you go to belong? Fourteen-year-old Linda lives with her parents in an ex-commune beside a lake in the beautiful, austere backwoods of northern Minnesota. The other girls at school call Linda 'Freak',or 'Commie'. Her parents mostly leave her to her own devices, whilst the other inhabitants have grown up and moved on. So when the perfect family - mother, father and their little boy, Paul - move into the cabin across the lake, Linda insinuates her way into their orbit. She begins to babysit Paul and feels welcome, that she finally has a place to belong. Yet something isn't right. Drawn into secrets she doesn't understand, Linda must make a choice. But how can a girl with no real knowledge of the world understand what the consequences will be?
---
Bad Romance by Emily Hill
Tales from the happily never after!.
At a wedding, one woman's revenge comes in the shape of her heavily pregnant belly.
As a career girl attempts to climb the ladder she slides down into ever more grotesque flatshares.
A single woman who always attends parties alone realises that the truth might not always be the best answer.
And one Londoner learns her most important lesson since moving to the city - never act friendly towards a stranger.
Bad Romance is dark, hilarious and moving by turn as Emily Hill's acid wit gives life to the women whose tales never normally make it into the storybooks.
---
The Whitstable High Tide Swimming Club by Katie May
Join Debs and Maisie and the high tide swimmers as they make waves in life, love and friendship. Only the truly devoted manage to swim every day at Whitstable, because the sea's only deep enough at high tide. So when Deb (ageing bikini, sunglasses) and Maisie (black wetsuit, swimming shoes, goggles) keep meeting on Reeves Beach, they strike up an unlikely friendship based on their love of swimming and their recent divorces. They swim early in the morning and late at night; through sea-fogs, rain and glorious sunny days. Soon, they are joined by other high tide swimmers, each with a crisis of their own to weather. Ann, a bossy organiser, is caring for her elderly mother at home; Julie has somehow (although she's not quite sure how) managed to produce three children under school age; and Chloe, a bright, brittle girl of fifteen, finds calmness in the water. Quiet, anxious Bill is initially thought to be a peeping Tom, before being welcomed into the heart of the club.When the swimmers discover plans for their beach to be paved over for a leisure complex, they find a higher purpose that bonds them together, and exposes their fragile worlds to public scrutiny.
This is a book about the power of female friendship, that never loses sight of the complicated truths behind the lives of women who - from the outside - seem to take everything in their stride. It's also a song to the author's home town of Whitstable, where the sea is smooth, the shingle is painful on bare feet, and the air is full of possibilities.
---
Swimming Lessons by Claire Fuller
The second novel from the author of Our Endless Numbered Days, which won the 2015 Desmond Elliott Prize and was a 2016 Richard and Judy Book Club Pick.
Gil Coleman looked down from the window and saw his dead wife standing on the pavement below.
Gil's wife, Ingrid has been missing, presumed drowned, for twelve years.
A possible sighting brings their children, Nan and Flora, home. Together they begin to confront the mystery of their mother.
Is Ingrid dead? Or did she leave?
And do the letters hidden within Gil's books hold the answer to the truth behind his marriage, a truth hidden from everyone including his own children?
---
Miss Boston and Miss Hargreaves by Rachel Malik
One day in 1940 Rene Hargreaves walks out on her family and the city to take a position as a Land Girl at the remote Starlight farm.
There she will live with and help lonely farmer Elsie Boston.At first Elsie and Rene are unsure of one another - strangers from different worlds.
But over time they each come to depend on the other.
They become inseparable.
Until the day a visitor from Rene's past arrives and their careful, secluded life is thrown into confusion.
Suddenly, all they have built together is threatened. What will they do to protect themselves? And are they prepared for the consequences?
---
Anything is Possible by Elizabeth Strout
An unforgettable cast of small-town characters copes with love and loss from the No. 1 New York Times bestselling and Man Booker long-listed author of My Name is Lucy Barton Recalling Olive Kitteridge in its richness, structure, and complexity, Anything Is Possible explores the whole range of human emotion through the intimate dramas of people struggling to understand themselves and others. Anything is Possible tells the story of the inhabitants of rural, dusty Amgash, Illinois, the hometown of Lucy Barton, a successful New York writer who finally returns, after seventeen years of absence, to visit the siblings she left behind. Reverberating with the deep bonds of family, and the hope that comes with reconciliation, Anything Is Possible again underscores Elizabeth Strout's place as one of America's most respected and cherished authors.
---
The Girl Before by J P Delaney
Enter the world of One Folgate Street and discover perfection . . . but can you pay the price?
Jane stumbles on the rental opportunity of a lifetime: the chance to live in a beautiful ultra-minimalist house designed by an enigmatic architect, on condition she abides by a long list of exacting rules.
After moving in, she discovers that a previous tenant, Emma, met a mysterious death there - and starts to wonder if her own story will be a re-run of the girl before.
As twist after twist catches the reader off guard, Emma's past and Jane's present become inexorably entwined in this tense, page-turning portrayal of psychological obsession.
---
Camino Island by John Grisham
Someone is about to make a killing . . .The most daring and devastating heist in literary history targets a high security vault located deep beneath Princeton University.
Valued at $25 million (though some would say priceless) the five manuscripts of F Scott Fitzgerald's only novels are amongst the most valuable in the world.
After an initial flurry of arrests, both they and the ruthless gang of thieves who took them have vanished without trace.
Now it falls to struggling writer Mercer Mann to crack a case that has thwarted the FBI's finest minds.
---
Edith and Oliver by Michele Forbes
Edith and Oliver fell in love after meeting in the glitzy world of the music hall in its Edwardian heyday.
Edith is a spirited young woman who plays the piano by night; Oliver is an illusionist who dreams of touring the world, of pioneering ground-breaking illusions that will bring him fame and fortune.
But their children arrive as the world begins to change, as cinemas crowd the high street and the draw of the music hall wanes.
Oliver - drinking too much and haunted by the death of his mother - becomes desperate for one final illusion that will put his name in lights.
As he loses his grip on reality, will his family pay the ultimate price?
---
A Gentleman in Moscow by Amor Towles
On 21 June 1922, Count Alexander Rostov - recipient of the Order of Saint Andrew, member of the Jockey Club, Master of the Hunt - is escorted out of the Kremlin, across Red Square and through the elegant revolving doors of the Hotel Metropol.
Deemed an unrepentant aristocrat by a Bolshevik tribunal, the Count has been sentenced to house arrest indefinitely.
But instead of his usual suite, he must now live in an attic room while Russia undergoes decades of tumultuous upheaval.
Can a life without luxury be the richest of all?
---
How to Stop Time by Matt Haig
I am old. That is the first thing to tell you. The thing you are least likely to believe. If you saw me you would probably think I was about forty, but you would be very wrong.' Tom Hazard has a dangerous secret. He may look like an ordinary 41-year-old, but owing to a rare condition, he's been alive for centuries. From Elizabethan England to Jazz-Age Paris, from New York to the South Seas, Tom has seen a lot, and now craves an ordinary life. Always changing his identity to stay alive, Tom has the perfect cover - working as a history teacher at a London comprehensive. Here he can teach the kids about wars and witch hunts as if he'd never witnessed them first-hand. He can try to tame the past that is fast catching up with him. The only thing Tom must not do is fall in love. How to Stop Time is a wild and bittersweet story about losing and finding yourself, about the certainty of change and about the lifetimes it can take to really learn how to live.
---
Inside the Wave by Helen Dunmore
To be alive is to be inside the wave, always travelling until it breaks and is gone. These poems are concerned with the borderline between the living and the dead - the underworld and the human living world - and the exquisitely intense being of both. They possess a spare, eloquent lyricism as they explore the bliss and anguish of the voyage. Inside the Wave is Helen Dunmore's first new poetry book since The Malarkey (2012), whose title-poem won the National Poetry Competition. Her other books include Glad of These Times (2007), and Out of the Blue: Poems 1975-2001 (2001), a comprehensive selection drawing on seven previous collections. Her final poem, 'Hold out your arms', written shortly before her death and not included in the first printing of Inside the Wave, has now been added to the reprint.
---
Reservoir 13 by Jon McGregor
Reservoir 13 tells the story of many lives haunted by one family's loss. Midwinter in the early years of this century. A teenage girl on holiday has gone missing in the hills at the heart of England. The villagers are called up to join the search, fanning out across the moors as the police set up roadblocks and a crowd of news reporters descends on their usually quiet home. Meanwhile, there is work that must still be done: cows milked, fences repaired, stone cut, pints poured, beds made, sermons written, a pantomime rehearsed. The search for the missing girl goes on, but so does everyday life. As it must. An extraordinary novel of cumulative power and grace, Reservoir 13 explores the rhythms of the natural world and the repeated human gift for violence, unfolding over thirteen years as the aftershocks of a stranger's tragedy refuse to subside.
---
Eleanor Oliphant is Completely Fine by Gail Honeyman
Eleanor Oliphant has learned how to survive - but not how to live Eleanor Oliphant leads a simple life. She wears the same clothes to work every day, eats the same meal deal for lunch every day and buys the same two bottles of vodka to drink every weekend. Eleanor Oliphant is happy. Nothing is missing from her carefully timetabled life. Except, sometimes, everything. One simple act of kindness is about to shatter the walls Eleanor has built around herself. Now she must learn how to navigate the world that everyone else seems to take for granted - while searching for the courage to face the dark corners she's avoided all her life. Change can be good. Change can be bad. But surely any change is better than... fine?
---
Midwinter Break by Bernard MacLaverty
Midwinter Break is a work of extraordinary emotional precision and sympathy, about coming to terms - to an honest reckoning - with love and the loss of love, with memory and pain...this is a novel of great ambition by an artist at the height of his powers' Colm ToibinA retired couple, Gerry and Stella Gilmore, fly to Amsterdam for a midwinter break. A holiday to refresh the senses, to see the sights and to generally take stock of what remains of their lives. But amongst the wintry streets and icy canals we see their relationship fracturing beneath the surface. And when memories re-emerge of a troubled time in their native Ireland things begin to fall apart. As their midwinter break comes to an end, we understand how far apart they are - and can only watch as they struggle to save themselves.
---
The Standing Chandelier by Lionel Shriver
From the award-winning novelist and short story writer, Lionel Shriver, comes a literary gem, a story about love and the power of a gift.
When Weston Babansky receives an extravagant engagement present from his best friend (and old flame) Jillian Frisk, he doesn't quite know what to make of it - or how to get it past his fiancee. Especially as it's a massive, handmade, intensely personal sculpture that they'd have to live with forever. As the argument rages about whether Jillian's gift was an act of pure platonic generosity or something more insidious, battle lines are drawn... Can men and women ever be friends? Just friends?
Described by the Sunday Times as `a brilliant writer' with `a strong, clear and strangely seductive voice', Lionel Shriver has written a glittering examination of friendship, ownership and the conditions of love.
---
From the Heart by Susan Hill
Everyone likes Olive Piper.
A happy, open-hearted child growing up in the 1950s, her life is contented.
When her passion for reading gets her into university she feels sure the world is waiting for her.
But then she makes a mistake - the kind any one of us could make - and faces an impossible choice.
'A shattering coming-of-age story' Daily Telegraph
---
The Doll Funeral by Kate Hamer
My name is Ruby.
I live with Barbara and Mick.
They're not my real parents, but they tell me what to do, and what to say.
But there are things I won't say.
I won't tell them I'm going to hunt for my real parents.
I don't say a word about Shadow, who sits on the stairs, or the Wasp Lady I saw.
Or that I'm a hunter for lost souls.
I'm going to be with my real family.
And I won't let anyone stop me.
---
Exile by James Swallow
A vicious Serbian gang whose profits come from fake nuclear weapons.
A disgraced Russian general, with access to the real thing.
A vengeful Somali warlord, with a cause for which he'd let the world burn.A jaded government agency, without the information to stop him.
Only one man sees what's coming.
And even he might not be able to prevent it . . .
Racing breathlessly from uncharted CIA prisons to the skyscrapers of Dubai, from stormbeaten oil rigs off the African coast to the ancient caverns beneath the city of Naples, Marc Dane returns in the incredible new action thriller from the internationally bestselling author of NOMAD.
---
The Dreams of Bethany Mellmoth by William Boyd
A philandering art dealer tries to give up casual love affairs - seeking only passionate kisses as a substitute.
A man recounts his personal history through the things he has stolen from others throughout his life.
A couple chart the journey of their five year relationship backwards, from awkward reunion to lovelorn first encounter.
And, at the heart of the book, a 24-year old young woman, Bethany Mellmoth, embarks on a year-long journey of wishful and tentative self-discovery.
---
A Cat, A Man and Two Women by Junichiro Tanizaki
Shinako has been ousted from her marriage by her husband Shozo and his yunger lover Fukuko.
She's lost everything: her home, status, and respectability. Yet, the only thing she longs for is Lily, the elegant tortoiseshell cat she shared with her husband.
As Shinako pleads for Lily's return, Shozo's relectance to part wth the cat reveals his true affections and the lengths he'll go to hold onot the one he loves most.
This is a novel about loneliness, love and companionship of the most unexpected kind. In this story of Japanese socity and manners, Tanizaki gives us a perfecty-formed oddball comedy and a love triangle in which the only real rival is feline.
---
Elmet by Fiona Mozley
Daniel is heading north. He is looking for someone. The simplicity of his early life with Daddy and Cathy has turned sour and fearful. They lived apart in the house that Daddy built for them with his bare hands. They foraged and hunted. When they were younger, Daniel and Cathy had gone to school. But they were not like the other children then, and they were even less like them now. Sometimes Daddy disappeared, and would return with a rage in his eyes. But when he was at home he was at peace. He told them that the little copse in Elmet was theirs alone. But that wasn't true. Local men, greedy and watchful, began to circle like vultures. All the while, the terrible violence in Daddy grew.Atmospheric and unsettling, Elmet is a lyrical commentary on contemporary society and one family's precarious place in it, as well as an exploration of how deep the bond between father and child can go.
---
A Spot of Folly by Ruth Rendell
A businessman boasts about cheating on his wife, only to find his own back to the wall. A beautiful country rectory reverberates to the echo of a historical murder. A compulsive liar finds herself caught out by an act of impulsive revenge.
Atmospheric, mysterious and never predictable, these are among the nine short stories of dark deeds and heart-stopping suspense collected here for the first time. Pull the curtains, settle into a chair and read on as Ruth Rendell turns the screw of psychological suspense in her inimitable style.
The stories are: A Spot of Folly; An Irony of Hate; The Haunting of Shawley Rectory; A Drop Too Much; Paradise; The Thief; The Long Corridor of Time; In the Time of his Prosperity and Trebuchet
---
Sleep no More by P D James
P.D. James was often commissioned by newspapers and magazines to write a special short story for Christmas. The Mistletoe Murder and Other Stories contained four of these stories and this companion volume contains a a further six, published here together for the first time.As the six murderous tales unfold, the dark motive of revenge is revealed at the heart of each. Bullying schoolmasters receive their comeuppance, unhappy marriages and childhoods are avenged, a murder in the small hours of Christmas Day puts an end to the vicious new lord of the manor, and, from the safety of his nursing home, an octogenarian exerts exquisite retribution.The punishments inflicted on the guilty are fittingly severe, but here they are meted out by the unseen forces of natural justice rather than the institutions of the law. Once again, P. D. James shows her expert control of the short-story form, conjuring motives and scenarios with complete conviction, and each with a satisfying twist in the tail.
---
Homegoing by Yaa Gyasi
Selected for Granta's Best of Young American Novelists 2017Winner of the National Book Critics Circle Award for Best First BookShortlisted for the PEN/Robert W. Bingham Prize for Debut Fiction Effia and Esi: two sisters with two very different destinies. One sold into slavery; one a slave trader's wife. The consequences of their fate reverberate through the generations that follow. Taking us from the Gold Coast of Africa to the cotton-picking plantations of Mississippi; from the missionary schools of Ghana to the dive bars of Harlem, spanning three continents and seven generations, Yaa Gyasi has written a miraculous novel - the intimate, gripping story of a brilliantly vivid cast of characters and through their lives the very story of America itself.Epic in its canvas and intimate in its portraits, Homegoing is a searing and profound debut from a masterly new writer.
---
The Furthest Station by Ben Aaronovitch
There's something going bump on the Metropolitan line and Sergeant Jaget Kumar knows exactly who to call.
It's PC Peter Grant's speciality . . .Only it's more than going 'bump'.
Traumatised travellers have been reporting strange encounters on their morning commute, with strangely dressed people trying to deliver an urgent message. Stranger still, despite calling the police themselves, within a few minutes the commuters have already forgotten the encounter - making the follow up interviews rather difficult. So with a little help from Abigail and Toby the ghost hunting dog, Peter and Jaget are heading out on a ghost hunting expedition.Because finding the ghost and deciphering their urgent message might just be a matter of life and death.
---
Munich by Robert Harris
September 1938. Hitler is determined to start a war. Chamberlain is desperate to preserve the peace.
The issue is to be decided in a city that will forever afterwards be notorious for what takes place there. Munich. As Chamberlain's plane judders over the Channel and the Fuhrer's train steams relentlessly south from Berlin, two young men travel with secrets of their own. Hugh Legat is one of Chamberlain's private secretaries; Paul Hartmann a German diplomat and member of the anti-Hitler resistance.
Great friends at Oxford before Hitler came to power, they haven't seen one another since they were last in Munich six years earlier.
Now, as the future of Europe hangs in the balance, their paths are destined to cross again. When the stakes are this high, who are you willing to betray? Your friends, your family, your country or your conscience?
---
A Legacy of Spies by John le Carre
Peter Guillam, staunch colleague and disciple of George Smiley of the British Secret Service, otherwise known as the Circus, has retired to his family farmstead on the south coast of Brittany when a letter from his old Service summons him to London.
The reason?
His Cold War past has come back to claim him. Intelligence operations that were once the toast of secret London are to be scrutinised by a generation with no memory of the Cold War.
Somebody must be made to pay for innocent blood once spilt in the name of the greater good. Interweaving past with present so that each may tell its own story, John le Carre has given us a novel of superb and enduring quality.
---
Three Daughters of Eve by Elif Shafak
Peri, a wealthy Turkish housewife, is on her way to a dinner party at a seaside mansion in Istanbul when a beggar snatches her handbag. As she wrestles to get it back, a photograph falls to the ground - an old polaroid of three young women and their university professor.
A relic from a past - and a love - Peri had tried desperately to forget.
The photograph takes Peri back to Oxford University, as an eighteen year old sent abroad for the first time.
To her dazzling, rebellious Professor and his life-changing course on God. To her home with her two best friends, Shirin and Mona, and their arguments about Islam and femininity.
And finally, to the scandal that tore them all apart.
---
Autumn by Ali Smith
'In a country apparently divided against itself, a writer such as Smith is more valuable than a whole parliament of politicians' Financial Times
'Undoubtedly Smith at her best. Puckish, yet elegant; angry, but comforting' The Times
'A beautiful, poignant symphony of memories, dreams and transient realities... The first post-Brexit novel' Guardian
A breathtakingly inventive new novel from the Man Booker-shortlisted and Baileys Prize-winning author of How to be both Daniel is a century old. Elisabeth, born in 1984, has her eye on the future. The United Kingdom is in pieces, divided by a historic once-in-a-generation summer.Love is won, love is lost. Hope is hand in hand with hopelessness.
---
Spook Street by Mick Herron
Never outlive your ability to survive a fight.Twenty years retired, David Cartwright can still spot when the stoats are on his trail. Jackson Lamb worked with Cartwright back in the day. He knows better than most that this is no vulnerable old man. 'Nasty old spook with blood on his hands' would be a more accurate description.'The old bastard' has raised his grandson with a head full of guts and glory. But far from joining the myths and legends of Spook Street, River Cartwright is consigned to Lamb's team of pen-pushing no-hopers at Slough House.So it's Lamb they call to identify the body when Cartwright's panic button raises the alarm at Service HQ.And Lamb who will do whatever he thinks necessary, to protect an agent in peril . .
---
Cartes Postales from Greece by Victoria Hislop
Week after week, the postcards arrive, addressed to a name Ellie does not know, with no return address, each signed with an initial: A. With their bright skies, blue seas and alluring images of Greece, these cartes postales brighten her life. After six months, to her disappointment, they cease. But the montage she has created on the wall of her flat has cast a spell. She must see this country for herself.
On the morning Ellie leaves for Athens, a notebook arrives. Its pages tell the story of a man's odyssey through Greece. Moving, surprising and sometimes dark, A's tale unfolds with the discovery not only of a culture but also of a desire to live life to the full once more.
---
Birdcage Walk by Helen Dunmore
It is 1792 and Europe is seized by political turmoil and violence.
Lizzie Fawkes has grown up in Radical circles where each step of the French Revolution is followed with eager idealism.
But she has recently married John Diner Tredevant, a property developer who is heavily invested in Bristol's housing boom, and he has everything to lose from social upheaval and the prospect of war.
Diner believes that Lizzie's independent, questioning spirit must be coerced and subdued.
She belongs to him: law and custom confirm it, and she must live as he wants. But as Diner's passion for Lizzie darkens, she soon finds herself dangerously alone.
---