Welcome to Pitshanger Books

A warm welcome to our website. Please feel free to explore the site and let us know what you think of it.

Your local independent bookshop

Located on lovely, leafy Pitshanger Lane. We stock over 3000 titles. As well as books, we sell cards, wrapping paper, stationery and games.

Serving our community

Everybody that works here lives locally. We all love the area and we all love books so please feel free to ask if there's anything you need.
What's new?
Radio 4

What's new?

Bestsellers

At the Cinema
Book of the Week
The Golden Thread: How Fabric Changed History by Kassia St Clair
All textiles begin with a twist. From colourful 30,000-year old threads found on the floor of a Georgian cave to what the linen wrappings of Tutankhamun's mummy actually meant; from the Silk Roads to the woollen sails that helped the Vikings reach America 700 years before Columbus; from the lace ruffs that infuriated the puritans to the Indian calicoes and chintzes that powered the Industrial Revolution, our continuing reinvention of cloth tells fascinating stories of human ingenuity. When we talk of lives hanging by a thread, being interwoven, or part of the social fabric, we are part of a tradition that stretches back many thousands of years. Fabric has allowed us to achieve extraordinary things and survive in unlikely places, and this book shows you how -- and why. With a cast that includes Chinese empresses, Richard the Lionheart and Bing Crosby, Kassia St Clair takes us on the run with escaped slaves, climbing the slopes of Everest and moonwalking with astronauts. Running like a bright line through history, The Golden Thread offers an unforgettable adventure through our past, present and future.
---
Book at Bedtime
Nine Perfect Strangers by Liane Moriarty
Nine stressed city dwellers are keen to drop their literal and mental baggage, and absorb the meditative ambience while enjoying their hot stone massages. Miles from anywhere, without cars or phones, they have no way to reach the outside world. Just time to think about themselves, and get to know each other. Watching over them is the resort's director, a woman on a mission. But quite a different one from any the guests might have imagined. For behind the retreat's glamorous facade lies a dark agenda. These nine perfect strangers have no idea what's about to hit them . . .
Man Booker Prize 2018
Anna Burns has won this year's prestigious Man Booker Prize for her third novel 'Milkman'.
This is an experimental novel, narrated by an unnamed 18 year old girl, known only as Middle Sister. In the city where the novel is located - also unnamed - to be interesting is dangerous. Middle sister is busy attempting to keep her mother from discovering her maybe-boyfriend and to keep everyone in the dark about her encounter with Milkman. But when first brother-in-law sniffs out her struggle, and rumours start to swell, middle sister becomes 'interesting'. The last thing she ever wanted to be. To be interesting is to be noticed and to be noticed is dangerous.
Milkman is a tale of gossip and hearsay, silence and deliberate deafness. It is the story of inaction with enormous consequences.
Booker's chair of judges, the philosopher Kwame Anthony Appiah, described the book as 'incredibly original', adding "None of us has ever read anything like this before,"
These are the books that were most popular with our customers last week......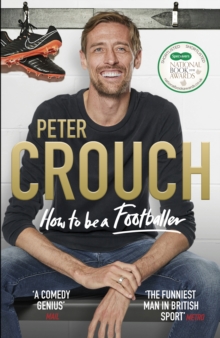 1. How to be a Footballer by Peter Crouch
2. Ottolenghi SIMPLE
3. Erebus: The Story of a Ship by Michael Palin
4. The Spy and the Traitor by Ben Macintyre
5. The Tattooist of Auschwitz by Heather Morris
6. Lethal White by Robert Galbraith
7. The Comforts of Home by Susan Hill
8. Death in the Spotlight by Robin Stevens
9. 21 Lessons for the 21st Century by Yuval Noah Harari
10. Tom Gates 15: What Monster? by Liz Pichon
If you would like to read any of these books, please send us a message from our contacts page, and we will reserve a copy for you.
The Children Act by Ian McEwan
Fiona Maye, a leading High Court judge, renowned for her fierce intelligence and sensitivity is called on to try an urgent case. For religious reasons, a seventeen-year-old boy is refusing the medical treatment that could save his life. Time is running out. She visits the boy in hospital - an encounter which stirs long-buried feelings in her and powerful new emotions in the boy. But it is Fiona who must ultimately decide whether he lives or dies and her judgement will have momentous consequences for them both.
You will find us on the south side of Pitshanger Lane. Please use the maps below to find us.
Gifts
As well as books we offer a range of gifts for children from Orchard Toys, Crayola, Galt and Playmobil. We also stock Top Trumps, Banangrams and other word association games.
And to finish off your gift, we have some lovely sheets and rolls of wrapping paper for adults and children. 
---
Cards
We stock cards for most occasions as well as a wide range of blank cards from publishers like Cannsdown Press and Green Pebble. We also have cards produced by local artists as well as designs featuring Pitshanger Lane and other local landmarks!
There's a wonderful range published by Candlestick Press which we absolutely love.
 The 'Instead of a card' range are priced at just under £5.00, come with an envelope, and contain around ten poems on subjects such as Birds, Tea, Mothers, Gardens, Cats, Bicycles and Knitting. They make wonderful, thoughtful presents and the range is growing all the time.
We are involved with many schools in the local area, and are keen to be involved with more. Among the services we offer are:-
Collation and supply of orders in a matter of days 
10% discount 
Assistance with School Book Fairs
Sponsorship of awards
Advertising for your school via leaflets and posters in our shop 

Please do contact us by email or 'phone to discuss any of these services in more detail.
Our independent bookshop is located on lovely, leafy Pitshanger Lane. We stock over 3000 titles, and can order hundreds of thousands more in just 24 hours.
As well as books, we sell cards, wrapping paper, stationery and games. We pride ourselves on our friendly service and personal recommendations.
If your purchase is a present, we can gift wrap it for you; if you can't get out to the shops we can deliver to your home.
We love books, we love reading and we love talking about books. If you do too, pop in next time you are passing; we would love to see you.
Coming up
Join us on Sunday 25 November for celebrations all along Pitshanger Lane.
We will be open from 4pm until 8pm and will have refreshments and nibbles to sustain you.
If you are aiming to do some Christmas shopping we can show you all the latest books, as well as Christmas cards, Advent Calendars and Candles, Wrapping Paper, games and lots more.
See you there!